INTRODUCING THE LATEST PATTERN RELEASE!
The SWIFT Baguette 
Small but mighty, this petite shoulder bag gives you plenty of room for all the necessities.   Included is an interior zipper pocket, and slip pocket with credit card slots. The unique top zipper keeps everything secure inside. There are also two outer slip pockets perfectly sized to hold your phone or any other items that you like to keep handy, including an additional credit card slot.

Three Unique Strap Styles 
A chain strap that turns your Swift into the perfect evening bagA fixed size shoulder strap with accents to perfectly compliment your bagAn adjustable should strap with easy to follow instructions showing you how to use multiple hardware sizes.
Make one or all three to give your SWIFT a different look with a quick change of the strap. 
Two Styles of Zipper Overlays
A simple and stylish version. A unique shape offering you the perfect spot to add your logo, or one of the many handmade tags that are available from your favourite hardware supplier. 

The SWIFT is designed as a raw edged bag, meaning it is suitable for leather, cork or vinyl, and using the recommended leather weight skiving should not be necessary.  Edge painting will finish your edges giving you a more polished look, but isn't required. 
SHOP NOW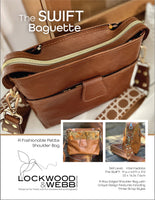 Welcome to Lockwood & Webb Designs
Here at Lockwood & Webb Designs we strive to create unique and stylish patterns that enable you to create your own accessories and bagwear.  
Our patterns are very detailed and  include hand drawn illustrations to guide you through each step and are available in PDF format.
Subscribe to receive our Newsletter and be the first to hear about new pattern releases, free patterns, new videos and member only discounts.